This product is for Racing Competition only and is not legal for use in highway or street vehicles or other non-racing competition off-road vehicles.
Purchasing this product requires you to sign our Vehicle Compliance Waiver here.
HCR's proprietary billet, slot and tab design and honeycomb boxed arms are built to withstand the beatings of rigorous off-road riding which achieving the optimal combination of strength and appeal. Every external weld is an internal plate structured into the design. While the cost-effective approach is to run tube ends for ball joints , all HCR kits run a 4130 heat treated billet end allowing all internal and external plating to be attached to this billet eliminating a potential weak point. Billets are available in both balljoint and spherical applications.The custom alloy used to manufacture every HCR kit is 30% stronger in tensile and yield strength compared to 4130 Series chromoly. This HCR custom material endures several processes and is hardened for better wear resistance and overall strength.

Package Includes:
4 Front A-arms
2 Trailing arms
Hardware
Rear sway bar extensions & hardware.
Features:
Laser Cut construction for precise fit and finish
CNC'd Chromoly mounting points for increased integrity
High Clearance Boxed Front A-Arm Design 1.250 added ground clearance
Each piece is Tig Welded by hand for strength and aesthetics
Reuse of OEM ball joints to maximize lowspeed steering ease & smooth travel with less maintenance
High-Clearance Rear Trailing Arms provide an increase of 1.25" in ground clearance
100% Proudly Made in the U.S.A
100% Bolt-on installation using factory mounting points
Heavy duty sway bar mount and hardware with 4130 Heims
1" longer wheelbase for better high speed stability, hill climbing, and descents
Larger front tube mounts are 1.25" in diameter with Delrin bushings for increased strength and durability
Factory Crush Sleeves Reused
Fitment:Notes:
You will re-use: OEM ball joints in the front A-arms unless you have ordered OEM equivalents, or if you order the Spherical Bearing upgrade, A-arm mounting bolts and nuts, Trailing arm radial bearings, trailing arm mounting bolts except the shock bolts, sway bar and hardware. No radius links are included in the kit and are an available option to purchase as an additional option.
All kits run 3-5 week production time and are custom built to order.
Proposition 65
WARNING: Cancer and Reproductive Harm
Make

Vehicle

Model
Submodel
Year
Engine
Notes
2014-2019
Polaris RZR XP 1000


RZR XP 1000
2014-2019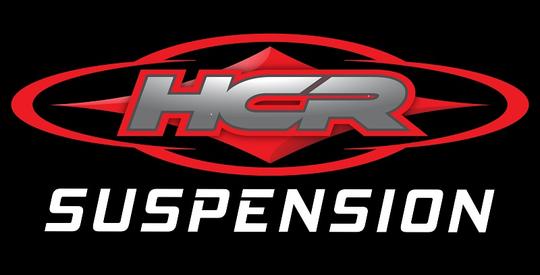 What is HCR Racing?
HCR Racing is a leading manufacturer of suspension parts for UTVs and side-by-sides. HCR's proprietary billet slot and tab design and catacomb boxed arms are built to withstand vigorous off-road elements while achieving the optimal combination of strength and appeal. The top-shelf performance, quality fitment, stunning finish, and ease of installation of HCR Racing's suspension kits are what sets it apart from the competition.
The HCR team is no stranger to the adversities of racing and the unkindness of the unpredictable desert terrain. They utilize their extensive know-how and racing experience to develop products that are second to none. HCR Racing manufactures parts for the Yamaha Rhino, Arctic Cat Prowler, Polaris Ranger, Polaris RZR, and Kawasaki Teryx. The company offers long-travel kits, spindles, A-arms, skid plates, doors, rooftops, and many other products that will help your side-by-side perform at a higher level.
Why Choose HCR Racing?
HCR Racing's OEM replacement suspension kits are designed to upgrade your UTV or side-by-side's factory suspension. Using ultra-durable components, these kits will hold up to even the most extreme off-road conditions. They are manufactured from a proprietary Elite custom alloy material that is 30 percent stronger in yield and tensile strength than 4130 series Chromoly. HCR's Elite material undergoes several processes and is hardened to achieve better wear resistance and overall durability.
Each HCR component is put through an intensive process to simulate and refine the geometry of each design. This is done to certify that it matches the attributes of the stock suspension. Critical measurements are taken and verified, such as ball joint angles and clearance to surrounding parts, to ensure no binding or interference. Through meticulous precision, skilled craftsmanship, and great attention to detail, HCR Racing strives to continue being the number one choice when it comes to off-road suspension solutions.
Upgrade to HCR Racing Suspension
Vivid Racing carries an assortment of HCR Racing products that will improve your UVT or side-by-side's ride quality and experience off-road. Our inventory of HCR parts includes replacement suspension kits, axles, bushings, handling arms, brace kits, lift kits, roofs, and more! If you have any questions regarding the items listed above, please call our expert sales team at (480) 966-3040. We are here to make the purchase process a pleasant and stress-free one.
WARRANTY
HCR RACING WARRANTY IS GRANTED TO THE FIRST PURCHASING CONSUMER THAT OUR PRODUCT WILL BE FREE FROM MANUFACTURERS DEFECTS ON WORKMANSHIP AND STRUCTURAL MATERIAL UNDER NORMAL USAGE. THIS WARRANTY SHALL NOT APPLY TO ANY DEFECT, MALFUNCTION, OR FAILURE CAUSED BY ABUSE, MISUSE, ACCIDENT OR NEGLIGENCE.

1.ALL PRODUCT MUST BE RETURNED WITH AN RGA# .NO EXCEPTIONS
2.PRODUCT MUST BE RETURNED IN THE CONDITION ORIGINALLY SHIPPED
3.ANY MODIFICATIONS OR ALTERATIONS TO ANY HCR PRODUCT WILL VOID WARRANTY
4.A 20% RESTOCKING FEE WILL APPLY TO ANY HCR PRODUCT, WHICH IS UNUSED, UNLESS OTHERWISE SPECIFIED BY YOUR REP .
5.SHOULD A STORE CREDIT BE APPLIED , THE SHIPPING WILL NOT BE REIMBURSED .
6.ANY HCR PRODUCT RETURNED TO HCR FOR WARRANTY IS SUBJECT TO INSPECTION.
7. ALL PRICES FEATURED ON THE WEBSITE ARE SUBJECT TO VERIFICATION WITH THE MANUFACTURER'S PRIMARY OFFLINE CATALOG AND CAN BE CHANGED AT ANY TIME.
8. ALL PRODUCTS FEATURED ON THE WEBSITE ARE SUBJECT TO AVAILABILITY.
9. ALL DISCONTINUED MERCHANDISE IS NON RETURNABLE.
10. HCR DOES NOT GUARANTEE POWDERCOAT COLOR MATCH TO ANY FACTORY COLORS OR REPLACEMENT PARTS