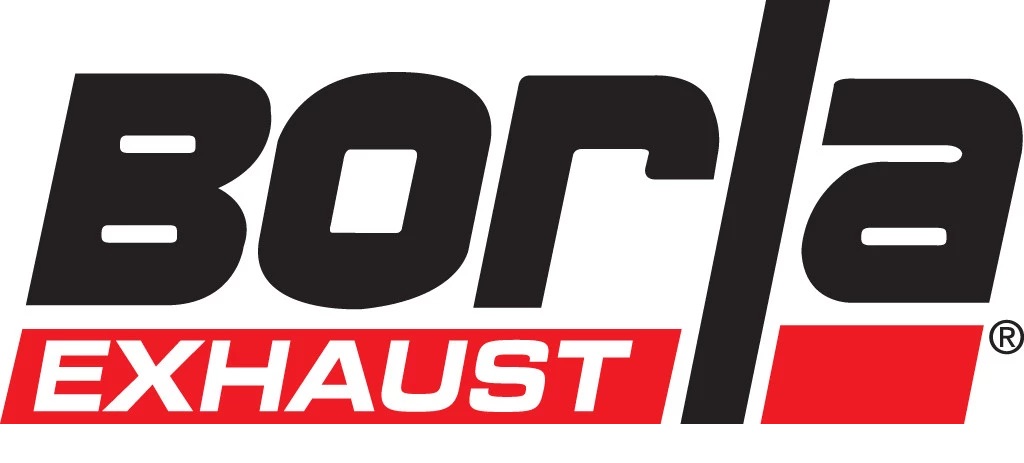 About Borla Exhaust
Huge power gains and a tantalizing tone that's second to none describe Borla exhaust systems in a nutshell. From the historic backroads of the Appalachian region to the twisting canyons of Malibu, Borla's operations span the American car scene from coast to coast. The brand's 100-acre manufacturing and distribution plant is located in Johnson City, Tennessee, and employs the nation's finest metalworkers. What's more, its west coast R&D facility in Oxnard, California is staffed by the industry's top engineers and fabricators. Borla is a company comprised of passionate and educated gearheads, and it's evident in both products and customer service.
Borla Exhaust prides itself on manufacturing a wide selection of premium exhaust systems, headers, and mufflers right here in the USA from ultra-high-quality T-304 stainless steel. Borla's cat-back systems are made from fully welded, mandrel-bent tubing and are performance-tuned to generate up to 15 percent more horsepower than stock figures. This is part of the reason why you will find Borla systems at professional racetracks all around the globe. Borla is so confident in its performance exhaust systems that it even backs them up with a Million-Mile Warranty.
Why is Borla Better than the Competition?
Alex Borla currently holds several U.S. patents for innovative exhaust system technology, and the company has won numerous "Best New Product" awards in the industry. Since its inception, Borla has garnered a name for itself as the leader in exhaust systems and induction. As the pioneer of aftermarket performance exhausts, Borla's product lineup is unique in a couple of ways. Firstly, all Borla parts are carefully crafted from quality exotic materials like stainless steel, titanium, and carbon fiber. Secondly, the muffler design allows for a precise fit and easy bolt-on installation process. For over 30 years, hundreds of other exhaust manufacturers have tried to imitate Borla's winning formula, but haven't come close.
Borla Delivers the Perfect Product
Borla's patented and race-bred muffler technology consistently delivers the best sound enhancements and performance exhaust capabilities. This is because every system features performance mufflers designed specifically for each application. Whether it's for a BMW, Mustang, Corvette, Mini Cooper, RAM, Jeep, or Subaru, you can be sure that the muffler technology has been intricately catered to the year, make, and model of your specific vehicle application.
Each of Borla's aftermarket exhaust systems come with the maximum horsepower and torque available throughout the entire RPM range. The brand's patented XR-1 technology can be found in the ATAK, S-Type, and Touring systems, so customers can pick the sound level they desire with the confidence that it will also increase power to the highest degree.
Touring Series - Borla's Touring Series exhaust systems are perfect for enthusiasts who want the performance of an aftermarket exhaust while retaining a sound similar to stock. Touring Series is louder than stock, but it's much quieter than nearly any other aftermarket exhaust available. This is perfect for someone who wants to hear their car when opening the throttle but wants to keep it quiet in town.
S-Type Series - The S-Type Series from Borla is just a set above the Touring Series. It provides a great exhaust note while still remaining relatively quiet when cruising. This is a very popular choice for most enthusiasts since the S-Type is the perfect blend of the exhaust note and exhaust volume.
ATAK Series - For enthusiasts who want the loudest, rowdiest, and rawest exhaust note possible, Borla offers the ATAK Series. The ATAK Series is significantly louder than stock and louder than many comparable aftermarket systems.
Buy a Borla Exhaust at Vivid Racing
There is no better time than right now to upgrade your vehicle's exhaust system and unleash its true potential. Vivid Racing is pleased to carry a wide range of Borla exhaust systems and parts for a variety of vehicles. Our extensive Borla inventory includes test pipes, exhaust tips, headers, mufflers, mid-pipes, Y-pipes, complete exhaust kits, and much more! If you have any questions regarding Borla exhaust products or to make a purchase, contact Vivid Racing by calling (480) 966-3040.